Message on a Chocolate Bar
During the 90 days of the race we are expecting that Richard will want to eat 4 chocolate bars a day and Helena 2. Actually, R will probably WANT to eat more than that, but there's a limit to the proportion of one's daily calories which should be drawn from confectionary.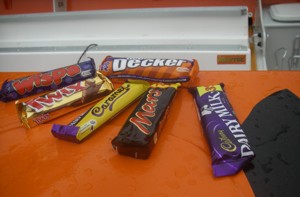 Anyway, that's 540 chocolate bars for the trip!
We have 59 so far... So we'd love you to get involved.
Here's how:
Please would you buy us a chocolate bar (variety is good but Mars, Snickers and Twix are staples).
Please then stick a label on it with your name and a message/joke/ limmerick/cartoon etc.*
Please give the item to Helena or Richard in person when you see them, by the end of July. Opportunities to do this might be at KGS, TVSC, Henley Women's (H will be in the Race Contol hut at mid-course), Henley Royal (boat will be moored outside Upper Thames), or post to 11 Quinton Rd, Thames Ditton, Surrey, KT7 0AX.
* Please write in ballpoint pen to avoid the risk of your message washing away!
We will then greatly enejoy reading these, or just knowing who kindly contributed to each delicious mouthful. And we'll try to mention you in our daily blogs. You could even play "Guess the day you chocolate bar gets eaten"!
We need to have all of these gathered tgether by the end of July as the compilation of our daily "snack packs" will begin in August.
Bookmark and Share:
Thanks to Herald Information Systems for hosting this site.